Our Doctor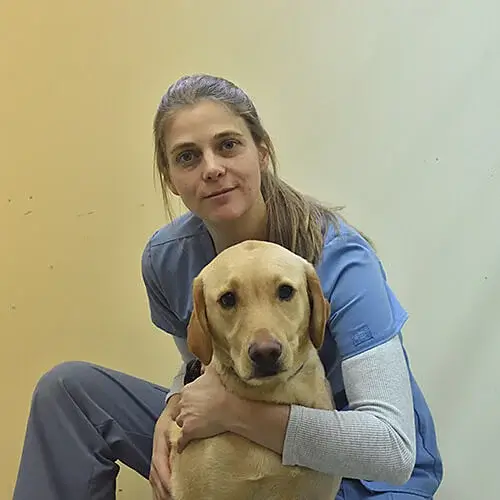 Dr. Nicole Belair, Owner & DVM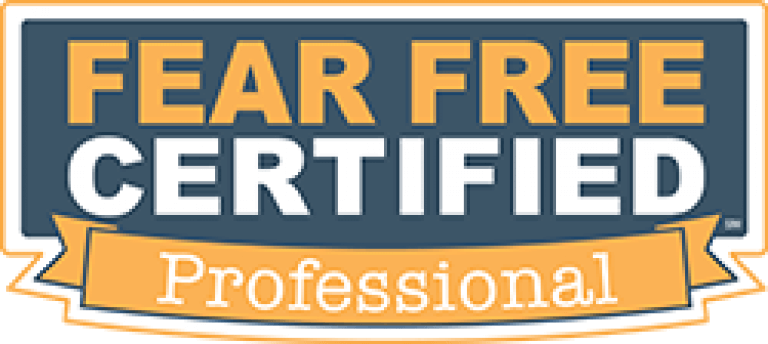 Dr. Belair joined the Pachaug Animal Hospital family in December 2019, upon Dr. Gay's retirement. She grew up in Central Massachusetts and began her veterinary career as a volunteer at Westside Animal Clinic in Worcester shortly after starting high school. Throughout high school and college, she worked her way through the practice, gaining lots of experience and mentorship in all aspects of veterinary medicine.
Dr. Belair earned her undergraduate degree from Assumption College in 2003 and then moved to Canada to attend veterinary school. She earned her DVM from the University of Prince Edward Island's Atlantic Veterinary College in 2008. From there she completed a rotating internship at Kansas State University's Veterinary Teaching Hospital where she received advanced training in surgery, emergency care and internal medicine.
In 2009, Dr. Belair returned to southern New England and has been in general practice in Rhode Island and Connecticut ever since. Over the years she has pursued training in holistic medicine, nutrition, physical rehabilitation, ultrasound and clinical pathology. In 2019, she became certified as a veterinary acupuncturist through the International Veterinary Acupuncture Society.
Dr. Belair loves all pets except snakes, treats mostly dogs and cats, and has soft spots for geriatric pets and Labrador retrievers. She lives in Moosup with two Labradors, Lennie and Fin, cats Norman and Carol, and is a keeper of honeybees.      
Practice Manager

Erin Mongeau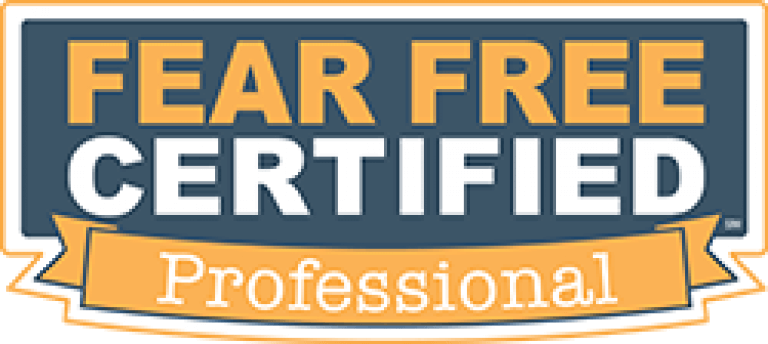 I'm Erin and my interest in veterinary medicine peaked about 20 years ago when I started job-shadowing Dr. Gay for a high school career day project. I went on to earn a bachelor's degree in Biology at ECSU, and I've been a veterinary technician since 2008. I especially enjoy working with this team as I watch their skills continuously develop and advance, making me feel like their proud mom. And I accept that role to the fullest.
My husband, three daughters, and I are in the makings of a developing a small farm in Canterbury. Our current tribe of pets include but are not limited to 3 dogs, 9 cats, 2 goats and a sheep, many free-range chickens and ducks, 3 parakeets, and fish tank with African Cichlids. On the weekends you will find me at horse shows, car shows, and rock shows!
Veterinary Technicians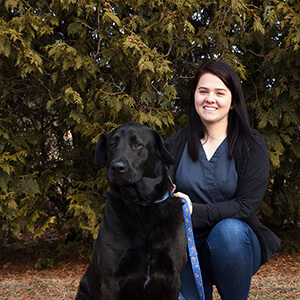 Ellie, Veterinary Technician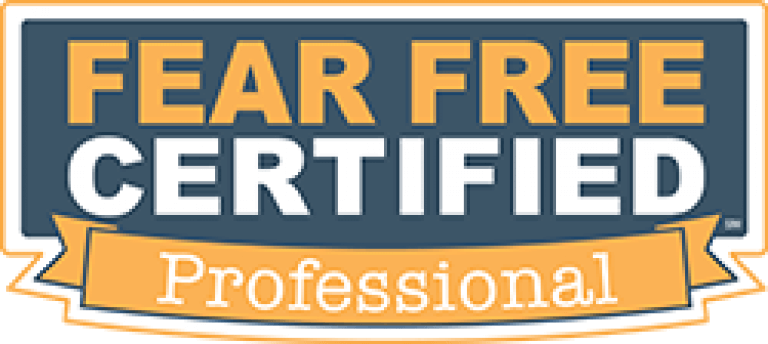 Hi There! My name is Ellie and I have been working at Pachaug Animal Hospital since May of 2018. You will mainly see me up at the front desk, but I am also currently cross-training to be a technician.
I have lived in Voluntown for my whole life and love to spend my days outside hiking and kayaking in our beautiful Pachaug Forest. My fur family consists of an extra-large black lab named Benny, a yellow lab named Maddie, and three cats named Lester, Pepper, and Louise. I am very passionate about animals and always treat all our furry patients like they are my own pets. I currently am earning my veterinary technician certification through Penn Foster college. It has helped greatly while simultaneously learning hands-on skills throughout the course of the work day. Stop in and say hi!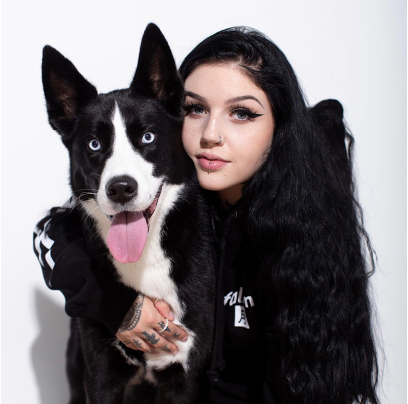 Bri, Veterinary Technician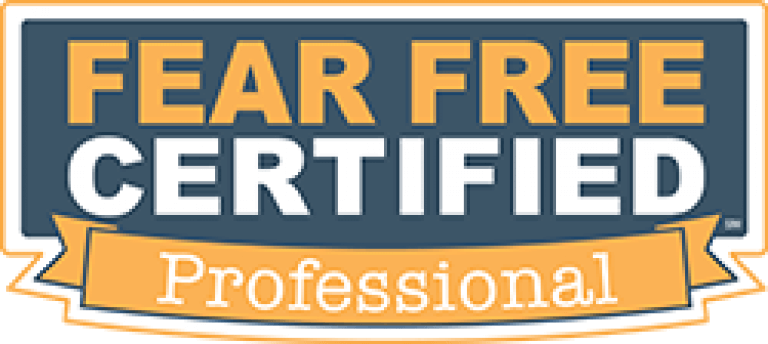 Hi Everyone!  My name is Bri!  My career in the veterinary field started not that long ago back in October of 2019, but may immense love for animals has been forever.  I earned my Veterinary Assisting Certification right after I graduated high school at Three Rivers Community College.  There, I took a few extra classes studying large animals, exotic pets and even wildlife.  After Working far too long in retail I wanted to put my schooling and passion for animals into action.  I started as a veterinary assistant and have been trained by the other amazing techs here to become a technician myself.  I know, like myself, you all think of your pets as another member of the family.  Rest assured, when your furry family members are in my care I will treat them like my own.  Currently, I live in Groton with my spunky husky mix, Willow, and my snuggly cat named Lucifer.  I grew up in the Griswold/Preston area, graduating from GHS back in 2013.  I did, however, spend my freshman year at Ledyard High where I studied agriculture.  I grew up having a variety of pets including goats, chickens, ducks, tortoises, birds, a horse, and of course dogs and cats.  My free time is spent at car shows, drift events, metal shows, hiking, kayaking, mountain biking or just sitting by a fire with friends and family. I am excited to be enrolled with Penn Foster's online AVMA-CVTEA accredited Vet Tech Program to earn my veterinary technician certification.

Lydia, Veterinary Technician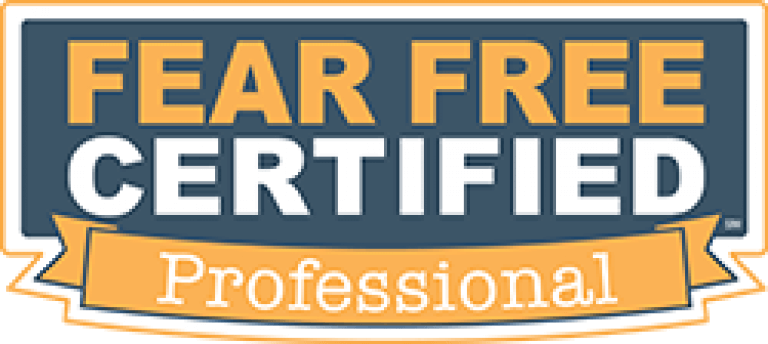 Lydia began their career in 2010 working as a kennel assistant, and quickly worked their way to becoming a technician over the next few years. Over the past decade, they have built experience in general practice, emergency, and specialty medicine with a focus on surgery and anesthesia.
Lydia started working with Dr. Belair in 2018 and when the opportunity arose, they jumped on board with the crew at Pachaug Animal Hospital in 2020. Lydia started as a surgery technician but is now a full-time technician.
In their free time, Lydia enjoys taking their cat Dexter on strolls across their property in Moosup, playing tabletop games with their family, and enjoying the natural sights of Connecticut.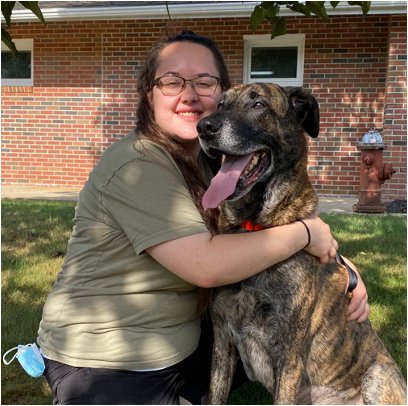 Becky, Veterinary Technician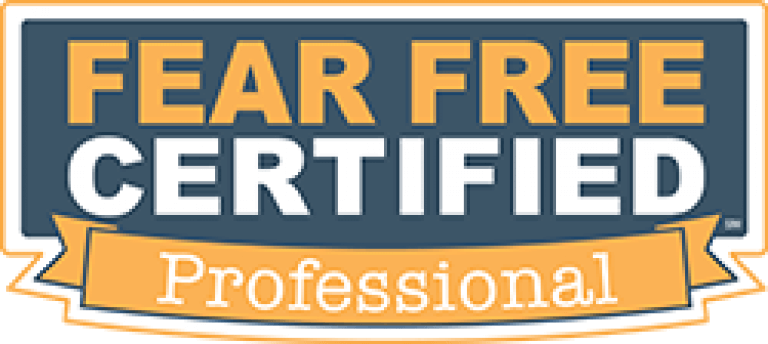 Hi friends! Howl you doin'? I'm Becky and
may have a familiar face to this local community. After graduating from East Lyme High School in 2011, my family and I moved to the Voluntown/ Griswold area. My career at Pachaug Animal Hospital is quickly approaching the 5 year milestone, although it feels like it's been fur-ever. I'm also excited to mention I'm currently enrolled through Penn Foster College to obtain my Veterinary Technician Certification.
My coworkers would describe me as having quite the punny bone. I'm pretty sure my daily jokes help them get through even the ruff-est of days. When I'm not being hounded to write my "about me", I love spending time with my 2 dogs and 3 cats. I also enjoy purr-fecting my culinary skills (Bone Appetit!), having a ball outdoors, and did I mention living for the puns of life? That being said, I'm paws-itively honored to be a part of the Pachaug team.
Paw-lease, hold the ap-paws.
Dog-gone it, I'm good.
Hospital Cat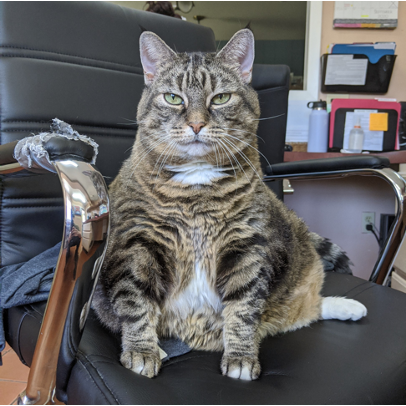 Riley, Hospital Cat
Riley is an 13-year-old kitty who weaseled her way into Lydia's life when she was a young stray by repeatedly breaking into her basement. Their family decided to keep her, and she spent the next decade living as a happy, fat house cat.
Her situation changed in late summer 2020 and Riley was suddenly without a lap to call her own. Dr. Belair was kind enough to offer a new place to call home, on one condition: Riley needed to enroll in Pachaug's very first Fitness Camp. She has successfully lost 8.5 lbs since being an active member of our Fitness Camp over the past two years!
She now spends her time doing "sprints" up and down the hall, periodic leg lifts (when she needs to groom that hard-to-reach spot), and climbing into people's laps for cuddles.
In Memoriam: Vivian Louise, Resident Hospital Cat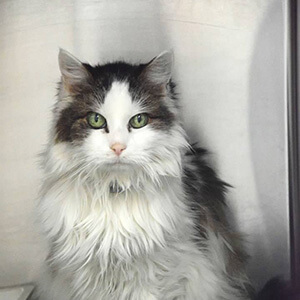 Vivian Louise, our long-lived and much-loved resident hospital cat, took her last nap on September 4, 2020.
It's said that some cats have nine lives. If that's the case, Vivian Louise lived multitudes.
Her kittenhood was spent with her brother, Godfrey, and Dr. Gay and Luchi, who adopted the duo in August 2001. The next year, Vivian Louise broke her leg under mysterious circumstances – never begrudge a lady her secrets – and, after being treated and recuperating here at PAH, she stayed on, excelling in her role as clinic mascot.
During her 19 remarkable years on this earth, she specialized in walking across keyboards, knocking things off counters, and dunking her head in whatever water glass she could find. Long-time clients probably remember seeing her sneaking into exam rooms and roaming the hospital halls as if she owned them.
Rest in Peace, Vivian Louise, the very queen of cats.